BioPods® Shoe Guide
How to make footwear choices that are good for your health.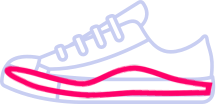 Built-in Arch Supports
Shoes that have unremovable built-in arch supports are not compatible with Stimsoles®.

Firm Heel Ridges
Shoes with from heel ridges at the front of the heel can cause bruising of the cuboid bone and surrounding area when using Stimsoles®.
Stimsoles® should not be used in shoes with this feature.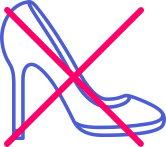 High Heels
High heeled shoes should be avoided because they cause unhealthy foot and leg mechanics.
 Shoes with heels higher than 1.5″ or 4 cm are not compatible with Stimsoles® use.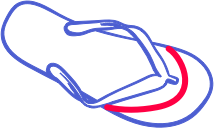 Concave Forefoot Supporting Surface
Shoes with concave supporting surfaces under the forefoot should be avoided at all times, whether using Stimsoles® or not. This feature causes the poor foot mechanics that can result in Morton's Neuroma, metatarsalgia, and other foot-related problems.
 The poor foot mechanics created by this feature cannot be overcome with Stimsoles® use.
We're available by phone and chat Monday – Friday, 8am – 4:30pm ET or check out the FAQs.
Need a hand?