BioPods® Shoe Guide
How to make footwear choices that are good for your health.
Things you need to pay attention to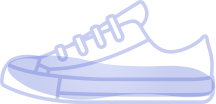 Without Removeable Insoles
You can use Biopods Insoles in shoes that do not have removable insoles by trimming the Stimsoles® to 3/4-length.
Biopods Insoles should NOT be used in shoes with built-in arch supports that cannot be removed. Learn more in our Getting Started Guide.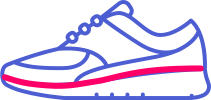 Contoured Midsoles
Biopods Insoles can be used in shoes with contoured midsoles. However, a lower stimulus level may be required. This is because a shoe's mid foot contour can increase the Stimsoles®stimulus intensity.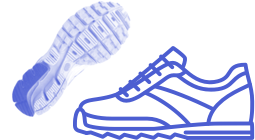 Large Flex Blocks
Footwear with midsoles/outsoles that feature large flex blocks may not flex uniformly at the balls of your feet. When the shoe's flex does not match the positioning of the balls of your feet, it can create sharp flex points that can bruise the balls of your feet.
Look for shoes that flex evenly throughout the forefoot.
We're available by phone and email Monday – Friday, 8am – 4:30pm ET or check out the FAQs.
Need a hand?